Tips for finding the perfect backsplash
The backsplash is a small install with large impact. Updating the kitchen backsplash is all the rage right now. In this article, you'll see why modernity has moved past the subway tile but hardly left it in the dust. From modern to old-fashioned, we'll dive into all the new rage and dig up the old-word craze.
White Cabinets, Granite Countertops.  What a wonderful tone to play with. Here you have the multi-varied look of natural stone with the blank canvas of white cabinets. Start with colors found in the countertop and build ideas off of your own preference. 
Whether redesigning an outdated kitchen or building out a new one it is the backsplash that will be bringing all of the elements together. Doing it on your own? Consider ceramic peel and stick as an option. Taking it up an extra level? We've got you covered. Here  we'll start out with the mother of all installs, the Solid Slab.
Solid Slab
When looking for a design element that offers a bold statement of elegance it is the solid slab install that takes the cake. It creates a dramatic effect in the kitchen that is matched second to none. The streamlined appearance of a solid glass or stone piece brings the eye to full design of the kitchen while also offering a crisp overall look of the layout.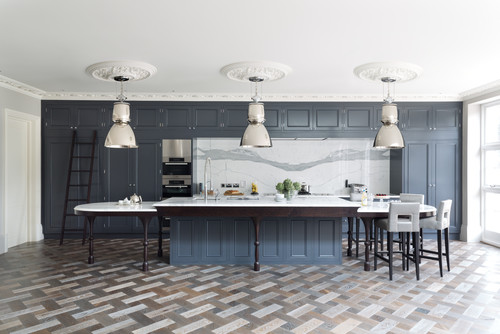 No grout, no tiles this is an easy cleaning kitchen machine
Day to day upkeep in the kitchen is so simple with the solid slab backsplash. Spray and wipe. Done. But it's not just the lack of grout that makes this easy to manage. The smooth, clean surface doesn't allow for dust to build up. Problems just wipe away. Grease, pasta sauce, child tantrums are not a worry.


The Solid Slab Backsplash – Everything You Need to Know – Gambrick.com
One thing that is important to consider is the type of material to use. Concrete will become porous if not treated regularly and marble, albeit beautiful, has some safe care details to follow. When looking at a totally maintenance free solid slab backsplash granite is the way to go with porcelain or glass in a far off second.
Combining the Elements of Solid Slab and White Cabinets
White cabinets are an excellent way to open up the color palette for backsplash options. Working with concrete countertops can be tricky in some ways though since the elements of concrete will be varied. It is best to work with what the granite has to offer in colors, shapes or patterns as a primary guideline.
If the option is available to match the same granite slab with the backsplash then that is certainly a stylistic choice. The look of a slab running from the surface and up the wall creates a dramatic effect in any kitchen. Cost can certainly be an issue here, or when it comes to updating an existing kitchen design, the old slab material might just not be available. There are simple solutions to this snafu that work simply down to both materials and style.

Kitchen Cabinet Kings – Why Solid Slab Kitchen Backsplashes Are Trending
Consider quartz as a matching stone to the current granite countertop. Quarts is a factory made material that offers a full spectrum of stone styles. Since this backsplash is going up against an already best granite countertop it may be best to stick to simple patterns and colors for the backsplash.
Porcelain is a great way to keep the clean look of a slab while budgeting for the rest of the kitchen. It is much lighter than stone which makes porcelain less of an installation bear. Benefits of porcelain are similar to that of the granite countertop in that it is impervious to bacteria and rated for food safety.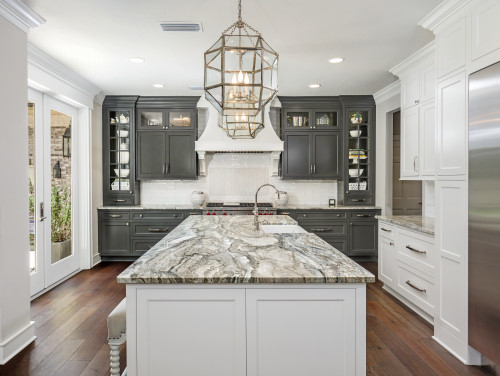 Glass slabs as backsplashes offer quite a bit of versatility since they open up the ability to paint the surface area. It is possible to use clear glass over a painted wall but not recommended due to the possibility of bugs getting stuck between the area. A painted glass slab creates the clean look of stone, quartz or porcelain that is smooth in nature that is easy to maintain. Natural light will bounce off of glass which will give it an extra sheen to the entire design.

Glass-backsplash by Oscar-Salvendy